Formula Windsurfing world championship Rio Araruama 2010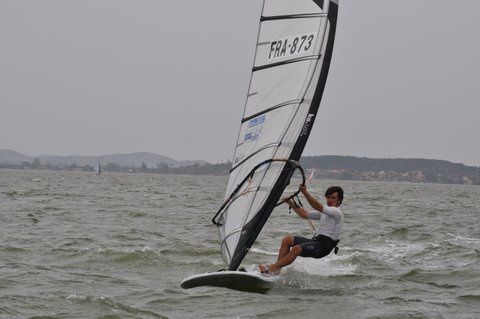 KA-rnaval do Rio Brazil do FRA873 Jocelyn De Souza
18 years old so first experience for me: I started by plane to an international windsurf competition without coach or nurse (byebye Dad !) but with boardbags, transfers, accommodation and races to manage !! yes I can ! (yes I hope!)
On the way to the Formula Windsurfing world Championship youth Araruama lagoa Praia seca Rio Brazil…..
Start friday october 18th 14 pm from Bordeaux (south west of France) after my last mathematic lesson. Arrived Saturday 5h30 am in Rio. 8h pm Araruama lagoa Praia Seca 130km north, the spot of the competition.11h pm I'm welcome on the water for the Brasilien Formula windsurfing championship. Ok, obrigado, I go ! 4 races in 20-25 knotts. I finished 4 behind Paulo dos Reis, Gabriel Browne and Matthias Pineiro. Incredible!!!!
An amazing warm up!
19h pm I'm beginning to get hungry, no time to get brasilien dollars (real), no time to eat!
Sunday: not enough wind, no race , we keep the ranking for the closing ceremony.
Monday: registration of the Formula Windsurfing world Champioship youth and master. No wind, I discover my new home: Pousada do recanto. I didn't find it yesterday so I slept by new spanish friends!
Tuesday: first day of race, 4 races in 25 kotts with 9,8m; I'm 3 after 2 races; "Eh Mister Ceri (boss of IWA)! Can we stop the championship now?" no! Ok once again. After 4 races I'm out of the podium but not far 4th. I'm ill and this evening I must repare my board Gaastra Vapor board after a crash with a chilien guy.
Wednesday: Forecast are bad so the committee decided to
pull the rest day earlier so tourism in Rio with other competitors from Poland and Finland: Maracana stadium, cathedral, Copacabana….
Thursday: wind 25-30 knotts hard job but I will survive with 9,8m ! 4 races of course as everyday. 6th youth
Friday: No more than 22 knotts but a black Friday: harness line broken, head of boom broken, foot injured….7th on the ranking youth
Saturday: final day, no change, ah yes I did races without 9,8m and with the Karace 10,7m !!
Final result I finished 7th youh and 13th overall, normal, the leaders are the best racers (Gabriel Brown BRA 50 first, Jacek Piasecki POL13 2nd and Macek Rutkowski POL23 3rd)
Brazil won the match against Poland, the main nations of Formula windsurfing !!